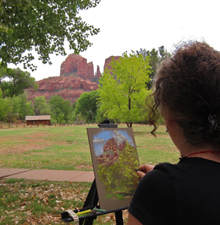 Tucson painter Betina Fink's works are direct and indirect experiences of landscapes and interior spaces of Arizona and adjacent western states. She sketches and paints directly on location; these pieces inspire larger studio works.

Growing up in Wilmington, DE, the influence of the Brandywine River School and the Wyeth legacy were part of the local aesthetic fabric. Fink began studying landscape painting after her MFA from the University of Arizona and studies in Amsterdam and Utrecht, NL. Returning to the US, Fink moved to an artist's intentional community in Oracle, AZ (Rancho Linda Vista).

Fink continues to draw and paint landscape and interior spaces. Her work has a regional following and is seen in collections in the US and the Netherlands.