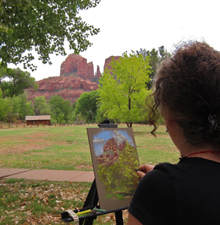 Fink's works are direct and indirect experiences of the landscape and interior spaces in and around Tucson, Arizona, as well as adjacent western states.

Growing up in Wilmington, DE, the influence of the Brandywine River School and the Andrew Wyeth legacy were unavoidable. Fink eventually began seriously studying landscape painting after her MFA from the University of Arizona and while working in Amsterdam and Utrecht, the Netherlands (1988-1993).

Returning to the US, Fink moved to the established artists intentional community in Oracle, AZ (Rancho Linda Vista),
continuing to draw and paint landscape and interior spaces in earnest. Her work has a regional following and can be seen in collections in the US and the Netherlands.